Welcome To The Domestic Girlfriend Wiki!
---
This is a Wiki about Domestic Girlfriend that anyone can edit! We encourage users to help make this wiki even better. Check out the above links to get an idea of how wiki editing works. Please be advised that the Wiki contains many SPOILERS AND MATURE CONTENT relating to Domestic Girlfriend. Read at your own risk!
About
Domestic na Kanojo (ドメスティックな彼女), also known as Domestic Girlfriend, is a Japanese manga series written and illustrated by Kei Sasuga. The series has been serialized weekly in Kodansha's Weekly Shōnen Magazine since April 2014 and digitally published by Kodansha Comics since April 2017.
---
Natsuo Fujii is hopelessly in love with his teacher, Hina. Trying to move on, he agrees to a mixer. There he meets an odd girl, Rui Tachibana who invites him to sneak out. She takes him to her house and asks him to have sex with her. Natsuo, frustrated that his love will not bear fruit anyway, says goodbye to his virginity. The next day, Natsuo's dad tells him that he wants to remarry and his prospective partner is coming to their house that evening. When the door opens, it turns out that Rui is Hina's younger sister and both are daughters of the woman his father wants to marry, Tokiko Tachibana.
Characters
Activity
Create blog post
Latest Posts
Hello Editors, sorry to bother again but I recently went through the character pages and wanted to …

Read more >

Hey Editors, Daiki here I wanted to let you know that when you are editing new chapters or older on…

Read more >

Hi everyone. My name is RealSenpaiDaiki or Daiki for short, and I've been thinking about adopting t…

Read more >
See more >
Latest Release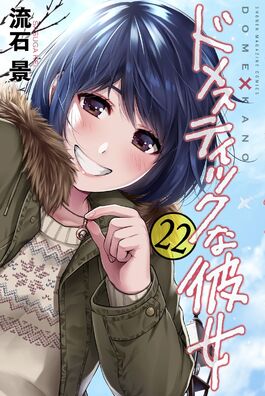 Domestic Girlfriend Volume 22

Release date: March 15, 2019
(JP)
ISBN 9784065144237
(JP)
Community Channel
Featured Character
Twitter Feed
Featured Video
Poll
Favorite Female Character?
Spring Season 2019 Anime Wikis

TV Anime

TV (Multiseason)

ONA




OVA

Specials

Film